De la part de Charlie Clelland
Hi Bernard,
I found this on the Web a while ago but forgot to report it.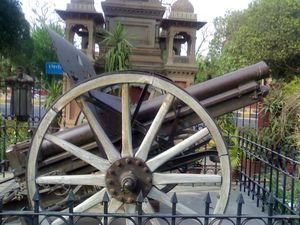 It's a Turkish Krupp 75mm gun at the National Museum at Lahore, Pakistan. Probably captured in Mesopotamia in 1917 by
Indian troops. It's a later version of the Krupp 75mm, an M09 or M11 - it has the later slide breech like an FK 96 rather than the
screw operated slide breech of the M03 model.