De la part de Charlie Clelland, des photos de Colin Wyatt
Un canon d'accompagnement de 7.7cm NKK au profil surbaissé bien visible sur les photos, à Esquimalt, BC, Canada, au Memorial Park
Il a été capturé par le 2nd Canadian Mounted Rifles, le 9 avril 1917 sur la crète de Vimy Ridge, à la ferme de La Folie.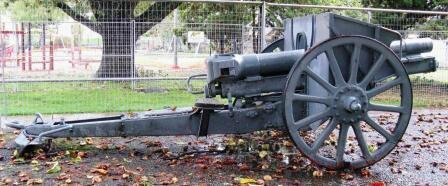 Hi Bernard,
The 7,7cm Nahkampfkanone (Close Support Gun) was a minimally modified FK 96 n.A to adapt the gun for an infantry support role. About the only changes made were the smaller diameter wheels (1m), the lower section of gun shield and the axle tree seat foot rests were removed. There are only a few surviving Nahkampfkanones:
Miles, Qld - you've got this one but it's labelled as a standard FK 96.
Esquimalt, BC, Canada - they thought this gun was an IG but it is pretty much identical to the gun at Miles (images attached - image credit - Colin Wyatt).
There is another Nahkampfkanone held by the Liverpool City Council in Sydney, Australia but I haven't been able to get images of it and it's not on public display.
Regards,
Charlie