De la part de Michael6367, un extrait de son site http://www.doughboysofnyc.com/
Un canon Allemand de 77 FK 96 n/A a St Thomaston, Connecticut, USA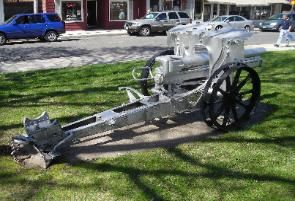 MISE A JOUR IMPORTANTE de Charlie Clelland : il s'agit en fait d'une variante du canon de campagne en canon d'accompagnement, nommée '7.7 cm InfanterieGeschütze L/27 Krupp ou NahKampfGeschütze'
Hi Bernard,
I've been doing some research on derivatives of the 7.7cm FK 96 n.A built during WW1.
There were about 18 batteries of an infantry gun built which was a much modified FK 96 design. As far as I can tell some of the differences were:
1. the wheel diameter was reduced to about 1m (I've read 960mm but I'm not certain about this)
2. the wheel track was reduced by about 30cm.
3. the axle was moved back about 30cm.
4. no axle tree seats were fitted.
5. the gun shield was designed so it could be removed easily and was narrower
6. the cover over the recuperator spring adjuster was enlarged and hinged (the barrel could be removed by unlocking the spur under the barrel from the recoil assembly)
7. the gunner's and loader's seat brackets were a different design so they could be quickly removed.
8. there are brackets at the end of trail which originally held a counterweight required because the gun unbalanced because the axle had been moved back.
9. the spade is a different profile (not certain about this one).
I had thought there were only a couple of survivors of these guns but it turns out there are 4 in North America at Taber and Peace River, Alberta, Thomaston. CT and the Pennsylvania Military Museum, Boalsburg, PA. You have one of these, the Thomaston, Ct gun but it's labelled as an FK 96 n.A on your website.
I'll send a separate email about the Nahkampfkanone survivors.
Regards,
Charlie
Fiche détaillée : http://www.passioncompassion1418.com/Canons/AfficheCanonGET.php?IdCanonAffiche=1002