De la part de Charlie Clelland
J'ai d'abord cru que le tube de cet obusier Allemand de 15cm sFH 02 exposé dans un bien bel abri, a Jamestown, South Australia avait été remonte a l'envers au cours de son installation...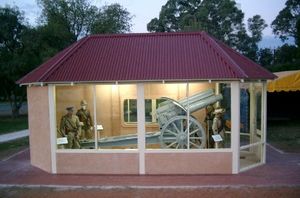 Mais C Clelland et d'autres passionnés ont démontré que la disposition étrange de cet obusier de 15cm était originale et rare, et qu'il en existait un autre exemplaire dans les réserves de l'Australian War Museum de Camberra :
Hi Bernard,
Two very rare guns. One, you've seen before, is at Jamestown, SA - this has been completely restored now (serial no. #19).
The other is in AWM storage at Mitchell, Camberra (serial no. #20).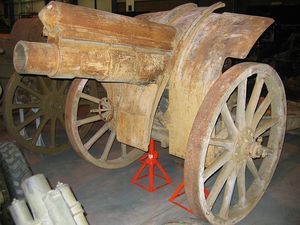 Both guns are dated 1907. Both guns were captured by
the ALH (Australian Light Horse) in Palestine. It's not certain where #19 was captured but #20 is recorded as captured at
Damascus in Oct 1918.
The guns seem to be part of a batch of 4 guns sold to the Turkish Army by Krupp in 1912. Best interpretation is that these guns
were prototype guns built by Krupp to trial rear-mounted trunnions and placing the recoil assembly above the barrel. German
texts after WW1 suggest that one of these prototypes was tested against a Rheinmetall prototype in 1911. As a result of these
trials neither gun was accepted and a new hybrid gun composed of both Krupp and Rheinmetall components was proposed.
This hybrid gun became the 15cm sFH 13. The Krupp records no longer exist but there's enough other information to build
a reasonable case for the identity of the guns.
I have the argument for the identity of the guns as a .pdf which I prepared for the restoration group at Jamestown - I can send you
a copy if you're interested (sorry English only).
Regards,
Fiches détaillées :